Map & Directions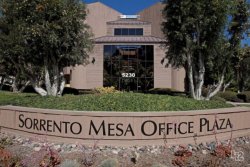 The San Diego EFT office is located in Sorrento Valley near to central San Diego, North County and the beach cities of La Jolla and Del Mar . The building is 1/2 mile east of the Mira Mesa exit of the 805.
Address:
5230 Carroll Canyon Rd., Suite 314
San Diego, CA 92121
(619) 787-2743

Directions
1. Take 805 North.
2. Take EXIT 27 toward Mira Mesa Blvd. and proceed onto Mira Mesa Blvd.
3. Turn RIGHT at Scranton Rd.
4. Take the first LEFT onto Oberlin Dr.
5. Take first RIGHT on Youngstown.
6. Turn into parking lot at end of block on LEFT for #5230 Carroll Canyon Rd .